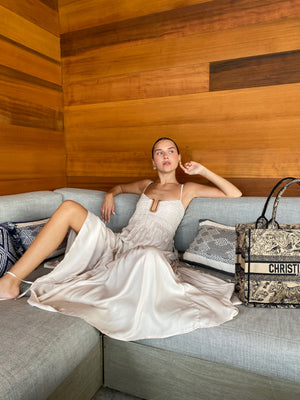 ULI by Uli Herzner Collection
---
Our ULI by Uli Herzner Collection is  made for the modern women on the go , and showcases  my favorite  ready to wear, effortless chic Pieces that will take you from day to night , thru all seasons and most important the timeless designs will make these pieces staples of your wardrobe for years to enjoy . 
After moving to NYC  and opening my Studio I found myself in desperate need for the perfect every day outfit , that is comfortable and chic from day to night ,  Monday to Sunday , in the Office , around Town and on my Travels .I wanted to create Pieces that can be styled differently every day  , look chic , but effortless and are comfortable while working , running errands , meeting with clients , going to a after work event or having dinner with my husband or just looking good at home .
These Pieces are designed in our NYC studio , but produced in Asia in Quantities up to 50 pieces , to keep the prices moderate .
For many of our Dresses we use Fabrics that mimic the feel , look and movement of silk , while being washable and durable . 
I hope you will enjoy these pieces as much as I do 
Sincerely 
Uli 
---
---